Certificate in Cyber Crime Analysis
Certificate in Cyber Crime Analysis
An Introduction to the Cyber World and the Laws that Govern It
What's included :
Mobile Support
Discussion Forum
Course Certificate
Description
From the privacy of your personal data stored with Aadhar to your online booking of movie tickets. From your child's Instagram posts to your Demat account. From the legality of drones to Uber tracking your movements … cyber law governs your entire world. The course aims to create awareness about legal rights and responsibilities in the emerging world order.
Who Should Enroll?
Law Students
Defence Lawyers and Prosecutors
Judges
Police Officers
Chartered accountants
Company Secretaries
IT Professionals
Military Personnel
Government Officials
Syllabus
Digital Evidence (Fundamentals)
Sources of Digital Evidence – 1 (Internet)
Sources of Digital Evidence – 2 (Network Traffic)
Sources of Digital Evidence – 3 (Operating Systems)
Sources of Digital Evidence – 4 (Files & Applications)
Sources of Digital Evidence – 5 (Smartphones, Bitcoin and IoT devices)
ISO standards relating to Digital Evidence
Digital Evidence – Best Practices and Standard Operating Procedures
Laws relating to Digital Evidence
ASCL Case Files
Internet and World Wide Web Basics
Cyber Crimes and Hack attacks
ASCL Case Files
Tools for Investigators
Email & Google Investigation
Browser Investigation
Log Analysis
Social Media Investigation
Cloud Investigation
Blockchain & Bitcoin Investigation
Information Technology Act & other relevant laws
Judicial, quasi-judicial & investigative framework
Relevant entities, terms & concepts
Penalties under Information technology Act
Offences under the Information technology Act
Understanding cyber crimes
Cyber Crime Prosecution & Defence
Cyber Crime Case Law
Global Cyber Crime Law – 1 (Antigua, Australia, Canada, EU, GCC)
Global Cyber Crime Law – 2 (Japan, Malaysia, Singapore, UK, USA)
Learning Outcomes
Master advanced hacking concepts
Manage information security efficiently
Frame security strategies, and utilize them to analyze risks
Assess and troubleshoot issues to support organizational security
Design security architecture and framework for a secure IT operation
Assessment
| Type | Weightage % |
| --- | --- |
| Content | 100% |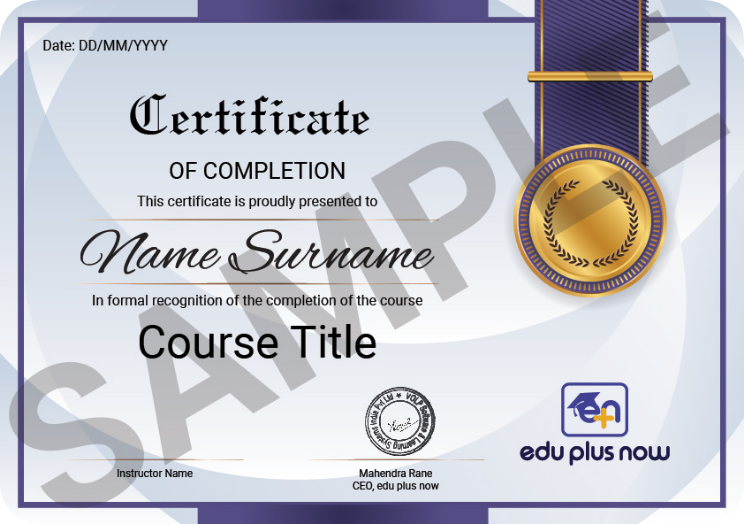 Awarded Jointly by The Asian School of Cyber Laws and edu plus now
What our learners have to say about us!
Course Fees : INR 40,000
(+GST)
Complete Coverage Digital Evidence .
Coverage of Internet Investigation Basic.
Coverage of Blockchain & Bitcoin Investigation.
In-depth Coverage of Information Technology Act & Other Relevant Laws.
Hands-on With Case Studies.
Why edu plus now
Industry-Ready Courses
Learn industry-relevant skills that'll make your resume stand out and ensure you're ready to tackle the job market.
Flexible Learning
Access online learning resources anywhere, anytime to gain valuable skills and transform your life in meaningful ways.
Qualified Instructors
Connect with experts and qualified instructors from reputed universities to stay on top of the ever-evolving future of work.
Adavanced study plans
Learn complex technical skills with videos, quizzes and assignments to develop your career and build towards a degree.
Focus on target
Select the best online courses in India that are not only informative and helpful to your long-term career goals but also help close the skill gap in the industry.
Knowledge Platform
Take advantage of a complete in-built environment for programming and get hands-on experience to solve real-world problems practically.
About the Instructor


Gokul Narayan

14 Years Of Experience

Asian School of Cyber Laws

My passion lies in the field of education as a faculty and an entrepreneur. As a faculty member, I implement new methods of learning, enquiry and research amongst students. I design and conduct courses using a wide variety of teaching aids.