Cybersecurity Awareness
Be aware,be secure!!
Jointly Delivered by
Seema Dixit
Online Course
What's included
&nbsp&nbspMobile Support
&nbsp Discussion Forum
&nbsp&nbspQuiz
&nbspCourse Certificate
Description
This course is designed to increase your awareness of various threats, attacks and cybercrimes on the internet. This course is created for educational purposes only. It starts with the basics of operating system, networking and virtualization, introduces you to various security threats and attacks and provides you the knowledge to protect your privacy and security on the internet. You will also learn how to secure your data using various tools and techniques. The course also covers simple data backup, restore and recovery techniques. You will also learn how to securely use your computer while connecting to internet by using proper browser security settings and personal firewall. This course also prepares you to build your carrier in cybersecurity field.
Anybody using computer, smartphone and Internet and wants to secure themself in cyber world
Students who want to build their career in Information security or Cyber Security
Learning Outcomes
Students will learn basics of Operating System, Networking, Ethical Hacking, Information Security and Operating System hardening techniques.
Assessment
| Type | Weightage % |
| --- | --- |
| Content | 100% |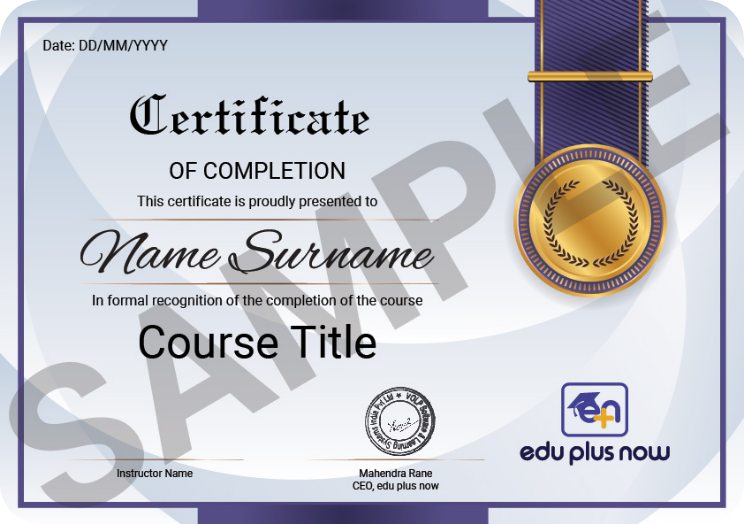 Course Fees
INR 3,300 (+GST)
Interested in This Program?
Location
Vishwakarma Institute of Technology, 666, Upper Indiranagar, Bibwewadi, Pune, Maharashtra, INDIA - 411 037
Why edu plus now
Industry-Ready Courses
Learn industry-relevant skills that'll make your resume stand out and ensure you're ready to tackle the job market.
Flexible Learning
Access online learning resources anywhere, anytime to gain valuable skills and transform your life in meaningful ways.
Qualified Instructors
Connect with experts and qualified instructors from reputed universities to stay on top of the ever-evolving future of work.
Adavanced study plans
Learn complex technical skills with videos, quizzes and assignments to develop your career and build towards a degree.
Focus on target
Select the best online courses in India that are not only informative and helpful to your long-term career goals but also help close the skill gap in the industry.
Knowledge Platform
Take advantage of a complete in-built environment for programming and get hands-on experience to solve real-world problems practically.
About the Instructor





Seema Dixit
16 Years Of Experience
Freelancer
Seema Dixit has over 16 years of experience in conducting training. She has trained more than 2000 students and professionals on various technologies like computer Networking, Operating System, Network Security, Ethical Hacking and Penetration Testing, Amazon Cloud Computing and Cybersecurity. She also has more than 10 years of experience in conducting training in security domains like Network Security, Ethical Hacking, Penetration Testing and Cybersecurity. She is Lead Security Trainer and Senior Security Analyst in IQSPL Pvt. Ltd., Pune and a Freelance trainer in Microsoft Server and Cisco Technologies, Amazon Cloud Computing, Ethical Hacking and Penetration Testing, and Cybersecurity.