Financial Statements Analysis Course
Financial Statements Analysis Course
Learn to Read Financial Statements and Make Better Financial Decisions
Jointly Delivered by
&nbsp&nbsp&nbsp&nbsp


What's included :
Mobile Support
Discussion Forum
Course Certificate
Quiz

An Overview Of The Financial Statements Analysis Course
The Financial Statement Analysis Course is designed to provide a basic understanding of financial statements, with an emphasis being given to the balance sheet. However, the understanding of financial statements does not go beyond one's ability to recognize that accounting is more about measuring than about counting. The course will help you learn about the three measurement questions and the importance of a balance sheet.
This Financial Statements Analysis Course in Pune is an online course which is accessible for PAN India audience. This course is certified by Edu Plus Now, Pune and the highly qualified faculty from Guru and Jana, Bangalore has curated the industry-oriented course according to the beginner level requirements of enrollees. The faculty who imparts the education for the course is a reputed and renowned Chartered Accountant. This course by Edu Plus Now is highly accredited & by far the best rated financial statements analysis courses in India.
Key Features Of The Financial Statements Analysis Course
Guru and Jana as the knowledge partner
Mentorship by industry specialists
Seamless EMI options
Industry-oriented curriculum
Eligibility Criteria For Financial Statements Analysis Course
Commerce and business students who want a holistic understanding of accounting terms like the end product, financial statements, and not just how the end product is created through bookkeeping.
Students interested in finance, accounts, and learning numbers and figures.
Working managers who would like to read and decipher financial statements without learning the concept of bookkeeping.
Investors who want to read and study their company's annual reports and 10Ks.
Salaried employees from non-accounting/finance backgrounds who want to determine how their company is doing financially without having to study accounts and finances.
People specialized in accounting and finance should NOT enrol themselves for the course.
What Will You Learn In Financial Statements Analysis Training Course?
The course is divided in 5 sections and each section has a valuable and relevant lesson for financial analysts in India. The sections are -
Learning Outcomes
You will be able to decode the different branches of accounting.
You will be able to explore and learn items that are typically included in each of the financial statements along with their meanings.
You will understand the purpose of financial statements (like income statement, statement of financial position, and cash flow statement).
You will be able to interpret financial statements for decision-making purposes in businesses.
You can recognize and understand the significance of several items that are a part of a balance sheet.
You will be capable of explaining the broader purpose of financial statements.
You will be aware of the role of accounting in producing the financial statements.
You will be able to read and interpret balance sheets of companies that will intimate you on the company's net worth and value.
Assessment
| Type | Weightage % |
| --- | --- |
| Content | 100% |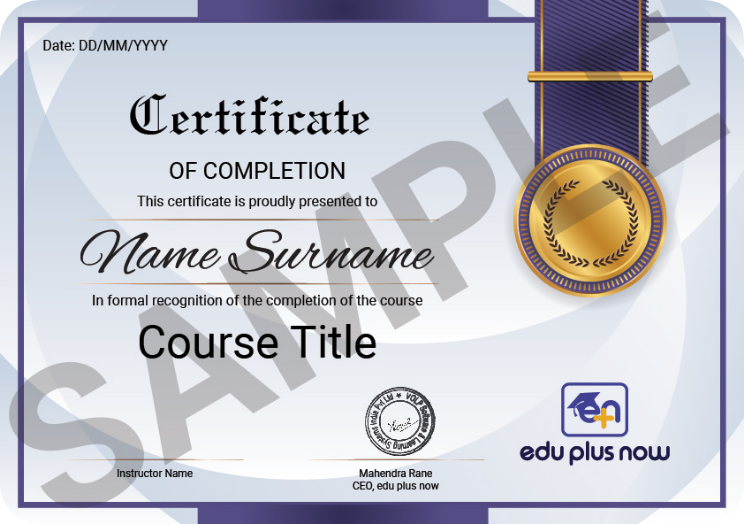 What our learners have to say about us!
Guru and Jana as the knowledge partner
Mentorship by industry specialists
Seamless EMI options
Industry-oriented curriculum
Why edu plus now
Industry-Ready Courses
Learn industry-relevant skills that'll make your resume stand out and ensure you're ready to tackle the job market.
Flexible Learning
Access online learning resources anywhere, anytime to gain valuable skills and transform your life in meaningful ways.
Qualified Instructors
Connect with experts and qualified instructors from reputed universities to stay on top of the ever-evolving future of work.
Adavanced study plans
Learn complex technical skills with videos, quizzes and assignments to develop your career and build towards a degree.
Focus on target
Select the best online courses in India that are not only informative and helpful to your long-term career goals but also help close the skill gap in the industry.
Knowledge Platform
Take advantage of a complete in-built environment for programming and get hands-on experience to solve real-world problems practically.
About the Instructor


Guru Prasad

30 Years Of Experience

Guru and Jana

Guru is the Founding Partner and heads the Consulting Team and Indirect Tax Team at Guru and Jana. The firm has a unique way of life and character, which, led by Guru, leads to thought leadership, empowerment and action. A Chartered Accountant with a degree in law and commerce, Guru brings over 20 years of experience to the firm. With a calm business head, he specialises in business advisory services and heads the strategy and business development front of the firm. An alumnus of the Indian Institute of Management, he also holds a diploma in counseling. Guru has been a member of the Auditing Standards Board of ICAI and has authored seven technical guides on internal audit. He has published a book 'Banter Beyond The Buck' and is an avid global traveler and Tabla player. He represents India subcontinent in the HLBI Global Tech Group. He is also a Board Adviser to Vishwakarma University Pune [Autonomous].
Pankaj Mandhane
18 Years Of Experience
Guru and Jana
Pankaj is a Chartered Accountant who handles the Pune Branch operations of Guru and Jana. He has an experience of 18 years in taxation, consultancy and business structuring. He regularly writes in newspaper about direct & indirect tax. He has delivered lectures in many forums about impact on business of accounts, finance & taxation. He has given live TV interviews on many news channels about taxation and increase in job opportunities due to GST.