Insolvency and Bankruptcy Code
Insolvency and Bankruptcy Code
Decoding India's Insolvency and Bankruptcy Code, 2016
Jointly Delivered by
&nbsp&nbsp&nbsp&nbsp


Online Course
What's included
&nbsp&nbspMobile Support
&nbsp Discussion Forum
&nbsp&nbspQuiz
&nbspCourse Certificate
Description
The course on Insolvency and Bankruptcy Code presents the in-details concept and procedure of the insolvency and liquidation process.
Gradate / Postgraduate students in field of finance, commerce and law
Practicing Professionals
Corporate Executives / Managers
Start-up Founders and Business Owners
Angel/VC/PE Investors and Advisors
Academicians
Any other finance enthusiasts
Please note: Trainee must have graduate in field of finance/commerce/law
Learning Outcomes
Ability to perform insolvency work and be at ease with insolvency aspects of corporate transactions
Learn to manage expectations of stakeholders and parties in a restructuring/liquidation
Assessment Policy
| Type | Weightage % |
| --- | --- |
| Content | 100% |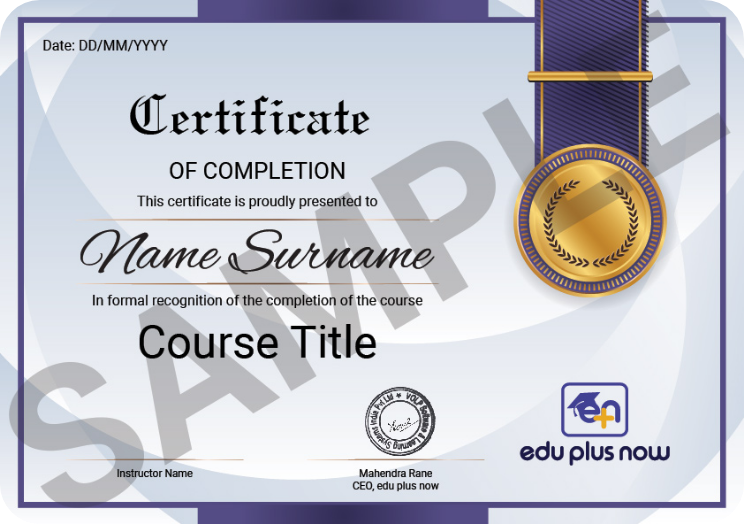 What our learners have to say about us!

Mr. Ajinkya Kulkarni
Associate Consultant, UMAS India Pvt. Ltd.
(Six Sigma Green Belt Batch)
"As an Industrial engineering professional, I found Knowledge sharing, practical case studies, and even study material provided during the SSGB course, very practical and industry oriented with up to date information. "Six sigma green belt course" provided by ISI Pune with Eduplusnow platform is a comprehensive way of learning fundamentals and implementation of six sigma in industries to increase the overall value of companies and for bringing excellence in any business sector effectively and efficiently. The course is very interactive and flows very smoothly till the last day. Teaching faculty is having huge working experience and domain knowledge of the field. I would appreciate the efforts of all faculty members who brought this course online for easy accessibility."

Mr. Amar Tukaram Patil
Junior manager at Syngene International Ltd.Bangalore
(Six Sigma Green Belt Batch)
"Thank you for a great course. Great presentation style with lots of opportunities to ask questions and talk about real life examples which all made for a really enjoyable and informative course. This has more than met my expectations. A wonderfully more practical /less theoretical course - both personally and professionally. In future also i am expecting such kind of training."

Mr. Ashvinder Tiko
Assistant Manager (HR), Springer Nature
(Six Sigma Green Belt Batch)
"I would like to extend my gratitude to ISI and Eduplusnow for such a wonderful and knowledgeable training program. The best part of the training was that ISI faculty and Eduplusnow management will answer all your queries, even if you ask the same question multiple times to clarify your doubts which is the "WOW" moment for me. I must say the training program was value for money/ "Full Paisa Vasool" will surely continue the relationship for the future too".

Mr. Deepak Kumar
BI Lead Working at Tata Consultancy Services Ltd. Melbourne Australia (Six Sigma Green Belt Batch)
"The 12 days MBB training was awesome and ISI Faculty kept us engaged throughout the training with his amazing style of teaching. DFSS, Data Analytics and Python basics were the highlights for me in the whole training while we were also able to refresh our existing knowledge on DMAIC. I would highly recommend my friends/colleagues to attend ISI training. "
"Thank you to Eduplus team also for planning this online MBB training session with ISI which gave us an opportunity to complete this training during a pandemic."

Dr. Uma Kulkarni
MBBS, DCH & PGDHHM 23+ yr experience Proprietor of Dhrti Consulting Services
(Six Sigma Green Belt Batch)
"Before joining the course I was unaware about the applicability of the DMAIC in the service industry or NGOs. I had concerns if the course would help me in upscaling my skill set. After interacting with ISI Faculty and Eduplusnow, I enrolled for the course confidently. I must say here that the training was indeed very comprehensive and intensive. The training met my needs beyond expectations."

Dr Vasanth Kiran
Renowned Classical Dancer
(Statistics for Researcher Batch)
"Statistics is a universally applicable subject and being an avid researcher and practitioner of Indian classical dance, I wanted to learn the nuances and what better than learning from institution like ISI. Faculties were fantastic in teaching. I further thank eduplusnow for creating such a wonderful opportunity."

Dr. Chitra Joshi
23+ yrs of experience Working as Education Management EPS United Arab Emirates
(Six Sigma Green Belt Batch)
"ISI Professor is an outstanding facilitator. Heartfelt thanks to eduplus team for organizing such learning programmes and offering the courses. The sessions were truly enlightening and helped me develop the understanding of data driven work styles. Thanks to ISI Faculty and would love to be a part of this amazing learning community."

Harish Subramanian
B.Tech Production Engineering
(Six Sigma Green Belt Batch)
"Fabulous and Memorable Experiance!"
"I liked the Interactive and fun learning session given by ISI Faculty and an amazing opportunity by ISI and EduPlusNow."

Ms. Harshada J IMS
WCM Coordinator at Canpack India Pvt. Ltd.
(Six Sigma Green Belt Batch)

"All training sessions was interactive and fun learning with enthusiastic tutor. Really it was a great experience with ISI and eduplusnow."

Mr Hemant Shinde
AVP - Global Process Advisory, Credit Suisse
(Six Sigma Master Black Belt Batch)
"The training had a special importance for me as it was quite a bit of time that I have not upgraded myself in my field of interest. As far as the course content and delivery is concerned it was pretty much good. The only point of improvement from my end is that I felt 12 days duration is on a lower side for such an intensive training. Also from our end as students we should have at least revised our BB concepts before joining for the sessions, it would have saved a lot of time from our end to. Hence in future it can be asked from the participants to revise or brush up the BB material before coming for the MBB sessions. It will immensely help both ISI Faculties and the students too."

Mr. Kartik Menon
Deputy Manager -Project Management Office, Atos Syntel Pvt. Ltd.
(Six Sigma Black Belt Batch)
"Six Sigma Black Belt training by ISI Pune facilitated by Eduplusnow helped me grasp the concepts of Six Sigma, Lean Six Sigma and DFSS at a deeper level involving requisite statistical tools & techniques. ISI faculty exuberant sessions and the lively manner in which he imparts his knowledge cannot be compared with any other course provider and I would highly recommend him to any Six Sigma aspirant. I also wish to thank the Eduplusnow staff for seamlessly enabling the online live classes across a period of 1.5 months and continuously being within reach when assistance was required. Thank you ISI Pune chapter and Eduplusnow for the experience!"

Mr. Mahesh Poojary
Quality Team Leader at Infosys ,Pune
(Six Sigma Green Belt Batch)
"It was a great learning experience , DMAIC topics were covered in such exceptional ways which were quite easy and relatable to our jobs with practical industry level business cases. Special thanks to ISI Faculty for providing immense practical knowledge & edu plus for managing with zero defect."

Mr. Naresh S
14 yrs of Experience
"It was a very very great learning experience.The way ISI Faculty coached really sparked me to do great things. Am sure that i became better version now. I am feeling proud to be connected with a real Guru / Teacher. I really thank Eduplus for the way they facilitated, which beautifully bridged the great coaches, Institutes & Learners. "

Nikita Phutela
Business analyst at Credit Suisse
(Six Sigma Green Belt Batch)
"Fabulous and Memorable Experiance!"
"Traning was Interactive And easy follow, Overall it was Great Experience."

Mr. Rahul Jain
Working at Johson control Engineer II (Project manager)
(Six Sigma Green Belt Batch)
"Training received from Faculty was invaluable. The way faculty has taught was so easy and understandable from the first word. Practical approach that faculty took was the thing i was looking for. I sometime felt like i am getting to learn from a Guru. I would like to give my thanks to Eduplus for arranging this fantastic, clear, concise and invaluable training and giving me chance to take one. It went smoothly, very well planned. I hope i will get to learn a lot from this team of Indian statistical institute and Eduplus. I would like to be in touch with Faculty for mentoring and as coach for my future projects."

Mr. Rajiv Kumar Gupta
Operations Manager S&P Global Market Intelligence
(Six Sigma Green Belt Batch)
"The course was very well designed and it was delivered very well by ISI Faculty. The course covered each and everything from literature to practical experience. Live examples were taken up and those were put into the form of project charter which helped us understood the concepts very well. Thank a lot Eduplus and ISI Pune for conducting the course."

Ms. Rupali P
Associate at Amazon,USA
(Six Sigma Black Belt Batch)
"I have thoroughly enjoyed taking Six Sigma Black Belt Course from ISI-Pune and Eduplusnow. I got suggested for this course from one of my close friends. I was a bit hesitant as I live in the USA East coast and need to take the class during my night time and that too on weekends. But I took the challenge since my friend was very positive about the class. Starting from the first night I never felt sleepy or bored even awake for the whole night since all the sessions were interactive,insightful, full of enthusiasm. ISI Faculty frequently checked with me and made sure I am awake. The faculty did justice to the role to the fullest. Professor gave lots of real time examples which were relatable and we were given many opportunities to clarify any doubts or questions in the class."

Shakir Basha L
Project Management at Emerson Automation Solutions
(Six Sigma Green Belt Batch)
"Fabulous and Memorable Experiance!"
"Really good experince to learn from ISI Faculties. I liked Concepts which have real time Approach."
Mr. Saravanan Thangavel
Production Executive,Biocon Limited, Bangalore
(Six Sigma Green Belt Batch)
"Fabulous and Memorable Experiance!"
"Great skill to learn....! "

Mr. Shanmugam Bairan
Production Executive,Biocon Limited, Bangalore
(Six Sigma Green Belt Batch)
"Fabulous and Memorable Experiance!"
"It is very useful course for me to gearing up my Career."

Mr. Srijan Sil Senior
Credit Analyst, Sovereign Ratings and Country Risk Management Crisil Limited, UMAS India Pvt. Ltd.
(Six Sigma Black Belt Batch)
"It was an amazing experience to begin my journey with Indian Statistical Institute Pune Unit and Eduplusnow through the Six Sigma Black Belt course. It was a great opportunity to learn and understand the importance of statistical applications in problem resolving approach in real-life scenarios. My heartfelt gratitude to ISI Faculty for teaching us with live examples in his wonderful and jovial sessions. It was great fun learning! I want to thank Eduplusnow team for organize the course so efficiently. Moreover, it is a dream come true for me to learn these tools from ISI Faculty.I am looking forward to implement my learning into my field of work, with the help of ISI Pune and Eduplusnow in future."

Mr Shubrajyoti Chakravarty
Business Operation, Cognizant
(Six Sigma Black Belt Batch)
"A must course for all Data Analytics /Quality professionals/aspirants. Eduplusnow is a great platform for interaction between top faculties and students. ISI Faculty is just amazing his knowledge and delivery of knowledge is a revelation, I could never imagine in my wildest dreams that concepts could be taught in such engaging and easy manner. His energy, humbleness and amazing sense of humor is class apart . I have become a fan of ISI Faculty. I am looking forward for other courses taught by ISI Faculty. Thank you sir and eduplusnow for providing such world class education."

Mr. Shubhankar Huddedar
Quality Lead
(Project manager)
"It gives me immense pleasure to be a part of this workshop "Six Sigma Green Belt". I am completely overwhelmed the kind of learning and enriching experience I have got from this training. I must say the level of teaching by ISI faculty was way beyond excellence. I definitely recommend to become a part of ISI & Eduplusnow to enhance ourselves."

Mr. Sumedh Sarode
Statistics for Researchers Batch
"Course is indeed good those who want to explore the statistics in modern world, however do gather basic terms and theory of statistics before enrolling as it will make more interesting for you."

Mr. Sumon Chakroborty
Manufacturing Advisory, Hitachi Vantara
(Six Sigma Black Belt Batch)
"I have attended the SSBB course in August 2020. I enjoyed every class. There was various learning and unlearning in Six Sigma & statistics topics. The way ISI Faculty taught, it is easy to remember. It was amazing that the types of subjects like statistics can be explained so simply. The course will give a different perspective on the thinking process. After the course, there is a mandatory guided capstone project. It will give confidence in learning during the past session. You can choose the project from any topic/domain as you like. I would recommend the course (Green, Yellow or Black belt) to all levels of the aspirant. "

Mr. Suraj Mani Chaurasiya
CoE Supply Chain Management Business Processes, Bayer Pharmaceuticals, Berlin
(Six Sigma Black Belt Batch)
"Amalgamation of different industry demanding professional courses at Edu Plus Now is overwhelming. The management attitude, faculty & platform is a benchmark for the online study industries. Teaching six sigma in a six sigma way is what makes this course unique. I can't draw a parallel line to compare this course with any other learning experience I had in my last 9 professional years and even before. I highly & confidently recommend this for any endeavor."

Mr. Suyog Chadrakant Dharmadhikari
Training & Quality Manager, Working at Tata Communications Ltd
(Six Sigma Master Black Belt Batch)
"The course was planned, designed & delivered in very organized manner by ISI Faculty. ISI Faculty explained all the concepts in very detailed manner without missing on any point. He display supreme command over the subject and knows his area very well. His ability to correlate theoretical concepts to ground level application is very powerful. I hope I would continue to seek his guidance for my future projects. I also would like to thank Eduplusnow team for arranging & managing all backend operations so well. I hope to continue this association with entire team in future."
Course Fees
INR 7,500 (+GST)
Interested in This Program?
Location
Vishwakarma Institute of Technology, 666, Upper Indiranagar, Bibwewadi, Pune, Maharashtra, INDIA - 411 037
Why edu plus now
Industry-Ready Courses
Learn industry-relevant skills that'll make your resume stand out and ensure you're ready to tackle the job market.
Flexible Learning
Access online learning resources anywhere, anytime to gain valuable skills and transform your life in meaningful ways.
Qualified Instructors
Connect with experts and qualified instructors from reputed universities to stay on top of the ever-evolving future of work.
Adavanced study plans
Learn complex technical skills with videos, quizzes and assignments to develop your career and build towards a degree.
Focus on target
Select the best online courses in India that are not only informative and helpful to your long-term career goals but also help close the skill gap in the industry.
Knowledge Platform
Take advantage of a complete in-built environment for programming and get hands-on experience to solve real-world problems practically.
About the Instructor
Guru Prasad
30 Years Of Experience
Guru and Jana
Guru is the Founding Partner and heads the Consulting Team and Indirect Tax Team at Guru and Jana. The firm has a unique way of life and character, which, led by Guru, leads to thought leadership, empowerment and action. A Chartered Accountant with a degree in law and commerce, Guru brings over 20 years of experience to the firm. With a calm business head, he specialises in business advisory services and heads the strategy and business development front of the firm. An alumnus of the Indian Institute of Management, he also holds a diploma in counseling. Guru has been a member of the Auditing Standards Board of ICAI and has authored seven technical guides on internal audit. He has published a book 'Banter Beyond The Buck' and is an avid global traveler and Tabla player. He represents India subcontinent in the HLBI Global Tech Group. He is also a Board Adviser to Vishwakarma University Pune [Autonomous].
Srilakshmi
10 Years Of Experience
Guru and Jana
Sri heads the corporate governance team of the firm. A Chartered Accountant and a Company Secretary, Srilakshmi holds a Master's Degree in Psychology too. She has received the Gold Medal from Azim Premji in her Bachelor of Commerce and brings to the table experience from her brief stint with BMR Associates. Sri is key to Guru and Jana's core belief that happy organisation gives greater satisfaction to its clients. Sri leads this process through the recruitment and reward culture. Sri also spearheads the core belief of the firm that delivering to the client in a professional manner is vital. Based on this philosophy, Sri drives a unique product called VIVID, the IP of which belongs to Guru & Jana. This product engages with the user to roll out high quality presentation of documentation in a few minutes.
Vijay Raja
15 Years Of Experience
Guru and Jana
Raja heads training and knowledge enhancement in the firm and is a creative, passionate advocate of ethical living. His unique and inspiring 'Extra Gyan' sessions have motivated many, and he has extended his knowledge to over 35,000 students who have given him great pride in their exceptional achievements. Professionally he is qualified as a Chartered Accountant, Cost Accountant,Company Secretary and holds a Master's Degree in Commerce and Psychology, as well as a Bachelor's Degree in Law. Raja is also an author, and has written books on corporate law, ethics and business communication and as a philanthropist, he is the creator of the Mahatria Guru Jana Foundation. Training and teaching is his passion.