Six Sigma Black Belt Certification
Six Sigma Black Belt Certification
Online Live Training
Certification jointly awarded by
Schedule:
Upto 12 Days
(Customisable as per requirements)
Training Mode(Online)
Date :02nd May 2021-12th June 2021
Batch Type :Saturday-Sunday
An Overview Of The Six Sigma Black Belt Course
The six sigma black belt certification is a program where participants will complete one Six Sigma project after the training and acquire transferable problem-solving skills and competence to solve and guide many problems in the forthcoming years for an organization.
The online six sigma black belt certification provides a very thorough understanding of Lean Six Sigma concepts in a heterogeneous setup and gives an in-depth understanding of statistical tools and techniques for effective fact based decision making. Six Sigma is a fact-based, data-driven structured methodology that is used to create breakthrough improvements in business processes. It is used to solve organizational problems where the solution is not known. The program augments the participant's existing domain knowledge and expertise with statistical thinking and application. This will help them to channelize their efforts and knowledge in the right direction and achieve groundbreaking results in their field.
Proper assistance will be provided to the participants during their first Six Sigma project where they will be walked through the entire project. The students will get a holistic understanding while doing the project and will also get practice on how to work on future projects. The undertakers of the six sigma black belt course in Pune will be jointly certified by the renowned institute of Edu plus now, Pune in association with Indian Statistical Institute, Pune.
Key Features Of Six Sigma Black Belt Course
Now you can get the best six sigma black belt certification course in India from the comfort of your homes -
Indian Statistical Institute, Pune as a knowledge partner.
Mentorship by industry specialists.
Seamless EMI options.
Industry-oriented curriculum.
Course awarded by Edu Plus Now and Indian Statistical Institute, Pune.
Who Will Benefit From The Six Sigma Black Belt Course?
This six sigma black belt certification course is suitable for people who are top executives, senior managers, team leaders, project managers, and management professionals.
Anyone who is a transactional process leader of any discipline from any industry can attend the course.
Entrepreneurs will find this course highly beneficial.
People who work in the middle management can enrol themselves for the course.
Software professionals and quality assurance engineers can also enrol themselves for this course.
Career Options After Attaining This Online Six Sigma Black Belt Training
Quality Improvement Specialist
Lean Six Sigma Manager
Six Sigma Lean Coordinator
Senior Manager - Lean Six Sigma
Senior SQE Manager
Business Process Engineer
Manager - Process Excellence
Sr. Procurement Specialist
Business Operations Analyst
Finance Business Process Expert
Six Sigma Black Belt Certified - Senior Specialist
Quality Compliance Analyst
Senior Manager Process Excellence
Quality Assurance Manager
Senior Business Process Improvement Manager
Manager - Business Excellence
Deputy General Manager - Process Excellence
Project Improvement Manager
Operations Project head
Process Improvement Manager
Head of Quality Assurance
Six Sigma Black Belt Instructor
AVP - Quality
Six Sigma Process Consultant
Operations Director
What Will You Learn In Six Sigma Black Belt Certification Course
The six sigma black belt certification training is divided into 5 modules that mainly come in handy for Six Sigma practitioners
Skill One Must Possess For Having A Successful Career As A Six Sigma Practitioner
Having a positive and optimistic attitude.
Possessing a firm belief in completing the tasks and achieving the goals.
Keen and possessing the ability to take initiatives.
Having excellent analytical and problem-solving skills.
Having the ability to manage project teams.
Being able to motivate peers.
Having excellent communication skills.
Having good writing skills and being able to present them.
Possessing the know-how and understanding of business processes.
Having the ability to manage budgets.
Being able to allocate company resources optimally.
Be hard-working and result-oriented.
Post Graduate Program in Data Analytics
Training Mode(Online)
Date :
05thJune 2021 to 17th Oct 2021
Time :
10:00 am to 04:00 pm
Batch Type :
Saturday-Sunday
---
Training Mode(Online)
Date :
08th May 2021 to 24th Oct 2021
Batch Type :
Monday-Friday
What our learners have to say about us!
Exam and Certification
Six Sigma Black Belt Certificate will be issued after the participants completes a Six Sigma project and attains >=70% marks in the test conducted on the last day of the program.


Once the candidate has attained all the above criteria for certification, he/she will be awarded the certificate of participation.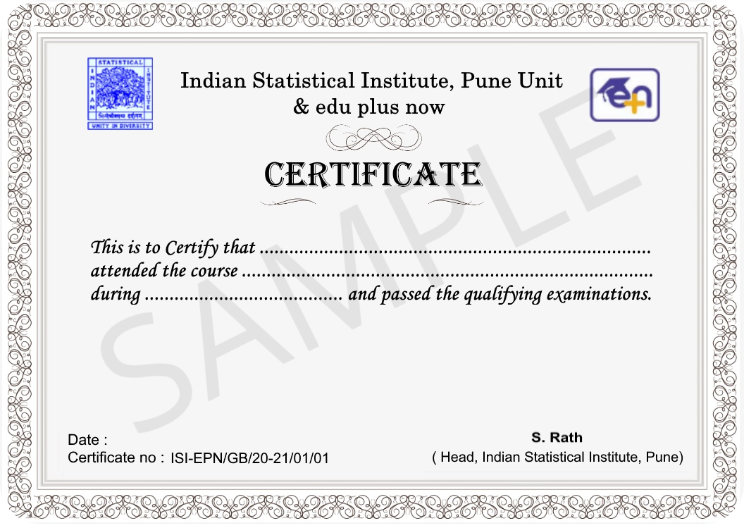 Awarded Jointly by The Indian Statistical Institute,Pune and edu plus now
Course Fees : 50,000
(+GST)
Indian Statistical Institute, Pune as a knowledge partner.
Mentorship by industry specialists.
Seamless EMI options.
Industry-oriented curriculum.
Course awarded by Edu Plus Now and Indian Statistical Institute, Pune.
Why edu plus now
Industry-Ready Courses
Learn industry-relevant skills that'll make your resume stand out and ensure you're ready to tackle the job market.
Flexible Learning
Access online learning resources anywhere, anytime to gain valuable skills and transform your life in meaningful ways.
Qualified Instructors
Connect with experts and qualified instructors from reputed universities to stay on top of the ever-evolving future of work.
Adavanced study plans
Learn complex technical skills with videos, quizzes and assignments to develop your career and build towards a degree.
Focus on target
Select the best online courses in India that are not only informative and helpful to your long-term career goals but also help close the skill gap in the industry.
Knowledge Platform
Take advantage of a complete in-built environment for programming and get hands-on experience to solve real-world problems practically.
About the Organization



It is a Central Government institute, devoted to research, teaching & application of not only statistics and allied sciences, but also the natural sciences, social sciences and their interface with the statistics. Founded by Professor P.C. Mahalanobis in Kolkata on 17th December, 1931, the institute gained the status of an Institution of National Importance by an act of the Indian Parliament in 1959.
ISI Pune is a unit of Indian Statistical Institute,Pune, active in Teaching, Training, Research and Consulting on application of statistics, operations research & allied science to solve problems of the industry across the spread and depth of the industries. ISI Pune bring sanctity of statistics in the mother initiatives such as TQM, TPM, Six Sigma, Quality Management, Management Systems, Business Management, Data Analytic, Data Science.