Statistics for Researchers Course
Statistics for
Researchers Course
Certification jointly awarded by
Schedule:

Upto 3 Days
(Customisable as per requirements)
Program Overview
Research is an unavoidable aspect of engagement for academia. Statistics is often used to reinforce a research point or subject. Statistics allows a domain research to proceed to the intended conclusion with factual arguments. However, not all researchers are able to understand the role of statistics and adapt it in their research.
In this program, the Indian Statistical Institute, Pune chapter outlines the topics that help researchers get clarity on the role of statistics in research.
Who Should Enroll?
Researchers
Faculty Members
Post Graduate Program in Data Analytics
Training Mode(Online)
Date :
05thJune 2021 to 17th Oct 2021
Time :
10:00 am to 04:00 pm
Batch Type :
Saturday-Sunday
---
Training Mode(Online)
Date :
17th May 2021 to 09th Sep 2021
Batch Type :
Monday-Friday
What our learners have to say about us!
Certification
ISI Pune will award participants a formal certificate of Statistics for Researchers after the participants pass a test conducted on the last day of the session with at least 70% score.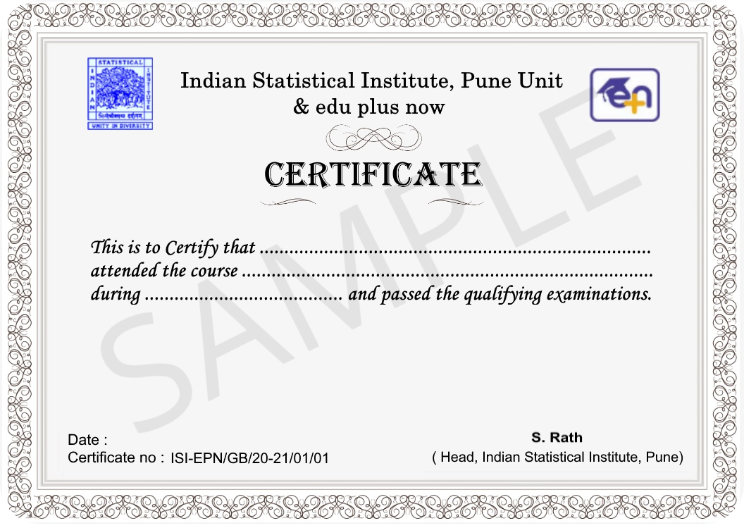 Awarded Jointly by The Indian Statistical Institute,
Pune and edu plus now
Course Fees : 8,000
(+GST)
Excel functions
Reports
Lookups
Pivot tables
Why edu plus now
Industry-Ready Courses
Learn industry-relevant skills that'll make your resume stand out and ensure you're ready to tackle the job market.
Flexible Learning
Access online learning resources anywhere, anytime to gain valuable skills and transform your life in meaningful ways.
Qualified Instructors
Connect with experts and qualified instructors from reputed universities to stay on top of the ever-evolving future of work.
Adavanced study plans
Learn complex technical skills with videos, quizzes and assignments to develop your career and build towards a degree.
Focus on target
Select the best online courses in India that are not only informative and helpful to your long-term career goals but also help close the skill gap in the industry.
Knowledge Platform
Take advantage of a complete in-built environment for programming and get hands-on experience to solve real-world problems practically.
About the Organization



It is a Central Government institute, devoted to research, teaching & application of not only statistics and allied sciences, but also the natural sciences, social sciences and their interface with the statistics. Founded by Professor P.C. Mahalanobis in Kolkata on 17th December, 1931, the institute gained the status of an Institution of National Importance by an act of the Indian Parliament in 1959.
ISI Pune is a unit of Indian Statistical Institute, active in Teaching, Training, Research and Consulting on application of statistics, operations research & allied science to solve problems of the industry across the spread and depth of the industries. ISI Pune bring sanctity of statistics in the mother initiatives such as TQM, TPM, Six Sigma, Quality Management, Management Systems, Business Management, Data Analytic, Data Science.